The summer is always a calm season, when people take a break from their fast-paced life and re-energise before September. Nisa-Nashim however had its good amount of excitement over the warmer months as well, and here are some of the things we have been up to!
The first great news we have to report is that Asma and Tamara are the co-chairs of a new Nisa-Nashim group that launched in North Finchley! They had their first 2 meetings already and we are so happy to have them on board. Check out these pictures from their inaugural meeting and their summer picnic.
Sticking to the theme of new groups, Nisa-Nashim now has its first Book Club Group! Nikki and Maura are the co-chairs and the first book our ladies chose to read was 'The Salt Path' by Raynor Winn, the true story of a couple who lost everything and had to start from zero. Being forced out of your home country, having to start anew in a place that often feels foreign and feeling lost are not unfamiliar topics for some of our members and, apparently, there was a lot of personal and emotional sharing when the time came to meet and discuss the book. The Nisa-Nashim Book Club is now reading 'The Forty Rules of Love' by Elif Shafak and we are looking forward to hear what they will think about it.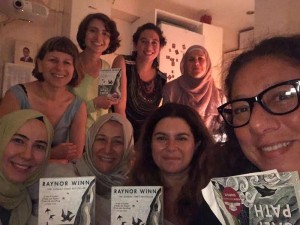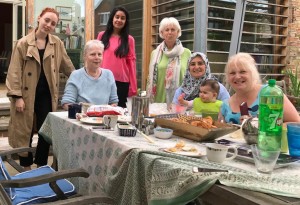 The summer was great for Nisa-Nashim West London as well! Lorraine, our Muslim Co-chair, came back after her well deserved maternity leave and now the group has the most beautiful new member, Talia!
Nisa-Nashim Leeds had a beautiful summer picnic in the park in August, where they shared food, laughter and a lot of love!
We must also give a massive shout out to Karen, one of our West London co-chairs. She went to Lindau, Germany, to the international conference of 'Religions For Peace'. This was Religions for Peace 10th 'World Assembly' and 900 people were there from all over the world. Karen presented Nisa-Nashim to the audience  in a TED style talk and tried to inspire more and more people with our message. And, if this was not enough, we are so proud of Nisa-Nashim Wessex as well, which was awarded with a certificate of excellence by Dorset Ethnic Minority Awards, in recognition of their incredible work! Here are 2 pictures we really wanted you to see.